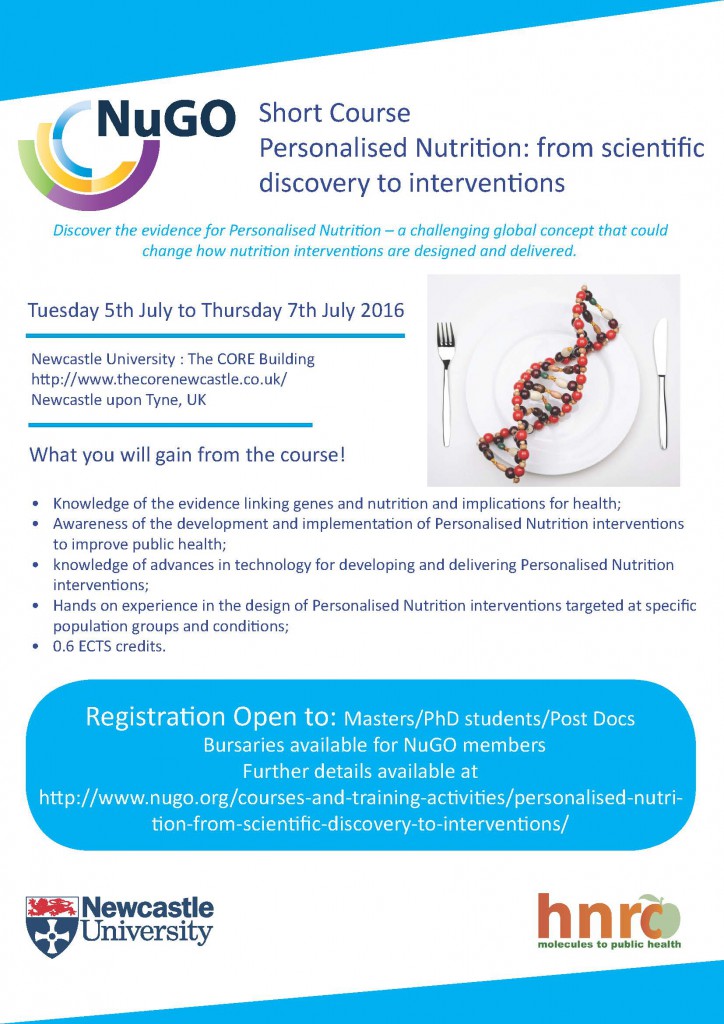 ---

PhD course: Personalised Nutrition: from scientific discovery to interventions
Date: 5-7th July 2016,
Venue: University of Newcastle – The CORE (http://www.thecorenewcastle.co.uk/)
City: Newcastle upon Tyne, UK
Course leader: Prof John Mathers, Dr Fiona Malcomson, Mrs Michelle Barr
Course Aims
The aims of this course are:
• To provide a rationale for the development and implementation of personalised nutrition interventions to improve public health;
• To provide examples of the scientific discoveries and advances in technology (evidence base) on which personalised nutrition interventions can be developed;
• To provide opportunities for participants to gain hands on experience of the design of personalised nutrition interventions targeted at specific population groups/ conditions.
Course design
The course will be mainly composed of lectures with ample opportunity for discussions. Beside participants will work in groups to design personalised nutrition interventions for particular target groups/conditions, after which the results will be presented the next day.
Lectures
The key-note lecturers are Hannelore Daniel (Technische Universität München) and John Hesketh (Newcastle University)
Other lecturers are:
* John Mathers, Georg Lietz, Hyang-Min Buyn and Dianne Ford (Newcastle University)
* Lorraine Brennan (University College Dublin)
* Carlos Celis-Moralis (University of Glasgow)
* Baukje de Roos (University of Aberdeen)
Study load and language
16 hours of course content that will be eligible for 0.6 ECTS credits. The course will be conducted in English.
Location
The course will be held at the Newcastle University, Building The Core. Visit (http://www.thecorenewcastle.co.uk/)
Accommodation
The NewcastleGateshead convention bureau blocked rooms at several hotels in different price categories. For information and online booking visit: https://aws.passkey.com/event/14422984/owner/9492505/home
Programme
Visit Programme dd 10 March 2016
Abstract Keynote lecturer: Prof. Hannelore Daniel
Costs
The course fee includes breaks, lunches, one course dinner on Tuesday evening and course material.
1. NuGO Member Organisations:   Cost£150.00
2. Non-member Organisations:      Cost£200.00
3. Newcastle University Members: Cost£75.00
Registration
Please register at: http://webstore.ncl.ac.uk/browse/extra_info.asp?compid=1&modid=2&catid=32&prodid=461
The final registration date is June 13th, 2016
Grants: CLOSED
The Nutrigenomics Association (NuGO) will make grants available for PhDstudents and Postdocs of its partners to participate in this course, visit [grant information]  for detailed information about these grants.
Flyer
Visit [flyer] for more information